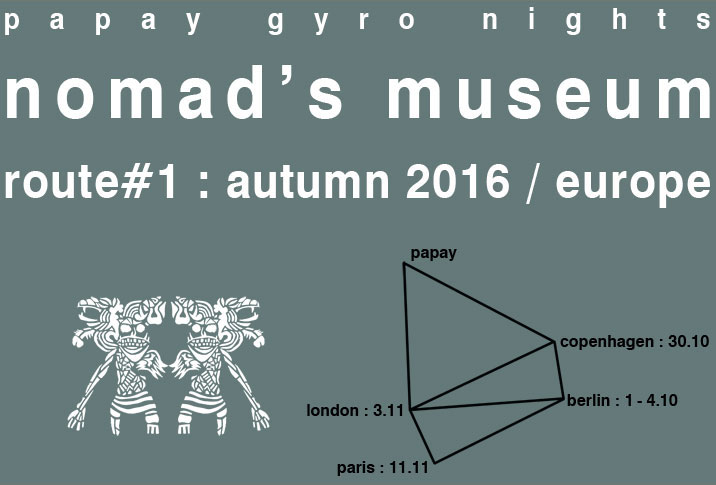 Papay Gyro Nights Art Festival has originated from the folklore, traditions and landscape of Papay - a small and remote island in the North Atlantic and taking place around the first full Moon of February

Since 2011 Papay Gyro Nights had 6 edition in Papay, 5 editions in Hong Kong and touring and exchange programmes in Europe, which are generating artists and ideas exchange, new works production and art archive and collection

This year Papay Gyro Nights are launching nomad's museum - a journey to present Gyro Nights collection, to meet new artists and art project to create new collaborations for the future

BERLIN : 1.10 – 4.10 @ > TOP SCHILLERPALAIS

PAPAY GYRO NIGHTS : nomad's museum
video art / experimental film / curator's talk

ARTISTS :
CEDRIC DUPIRE /
GENETIC MOO /
JUHA VAN INGEN /
MICHAELA GRILL /
NICLAS HALLBERG /
KATRIN OLAFSDOTTIR /
RIKKE BENBORG /
RYO IKESHIRO /
TAKASHI MAKINO /

COPENHAGEN : 30.10 @ BIOGRAFEN

nomad's museum
LES CHANTS DE MALDOROR (surrealism coninued)
experimental film programme

ARTISTS :
KATRIN OLAFSDOTTIR : IN DEATH I SOFTLY SING. 2014 / 8mm/ The new inconherent film has been specially made for Papay Gyro Nights 2014 Film by Katrín Ólafsdottir in collaboration with Andres Bartos Amory Cast: Æsa Hermannsdóttir, Teodor Úlfur Muñoz Katrínarson, Ivan Babinchak Renqvist Sound: Enrico Fiocco Shot on expired film, on a Beaulieu found in the suburbs untested, film processed in the bathroom. Whatever if anything that comes out on the film will be screened at the festival. Synopsis; An earth goddess and her malformed uterus, follow candykid to a teaparty with the bearded housewives. / SALUT PHALLUS. 2015 / Super 16mm / Hails to a drooling caterpillar.
TAKASHI MAKINO : GHOST OF OT301. 2014 / 16mm 35mm to HD 16:9 9min / music by Inconsolable Ghost / #4 Lima Independiente Festival International de Cine, Best of Avant-Garde Film Award (Peru)
A multilayered phantom ride which interweaves absences and presences, past and present. Inspired by a live performance of the group Inconsolable Ghost at OT 301 in Amsterdam.
RIKKE BENBORG : I BRING SLEEP. 2015 / 8mm film transferred to video./ Concept, Camera, Sound, Edit: Rikke Benborg / Lighting: Christian Alkjær / Costumes, scenography: Rikke Benborg, Sian Kristoffersen / Props: Fie Norsker, Majken Schultz / Styling: Fie Norsker / Stage manager: Sian Kristoffersen / Performers: Stinne Storm, Majken Schultz, Mikkel Olaf Eskildsen / Special thanks: Betty Nansen Teatret, Copenhagen / BROKEN. 2016

about the artists:

Katrín Ólafsdóttir's background is dance and choreography and she started making Super 8 films as a teenager. She has directed and produced several short films and documentaries and is currently in post production of her first feature film The Wind Blew On, made religiously with a home made formula of Mutual Aid. Along with Bertrand Mandico she is founder of the film collective International/Incohérence. Katrin also does photographic work, video performances and installations. She and collaborator Steinunn Gunnlaugsdóttir have been in the habit of taking over abandoned spaces and perform symbolic attacks. Katrin has exhibited in museums and galleries and done installations in abandoned man made structures

Takashi Makino born in Tokyo in 1978. Makino began making films in 1997. In 2001, after graduating from the Cinema Department of Nihon University College of Art, where he majored in Cinematography, he went to London alone to study under the Quay Brothers. He mainly studied film music and lighting. Makino continued to make films after returning to Japan and has held solo screenings regularly since 2004. He met Jim OfRourke in 2005, which accelerated his film making pace. His film, No is E won the Terayama Shuji Prize at the Image Forum Festival 2007. Makino was prominently featured at the International Film Festival Rotterdam 2008, where Elements of Nothing was nominated for the Tiger Award. Since then, as Japanfs leading experimental film artist, his films have been invited for screenings at more than 30 international film festivals and video art festivals. His installation using 35mm film and HD was exhibited at the Tokyo Metropolitan Museum of Photography. In 2009, still in cosmos won the Grand-Prix at the 25FPS International Experimental Film & Video Festival 2009. His first medium-length film, The World, was premiered at a late show at the Kichijoji Baus Theatre in Tokyo, marking the new dawn of experimental films.

Rikke Benborg is a film and video artist, living and working in Copenhagen. Educated from The Royal Danish Academy of fine art (MA visual arts), and from Middlesex University in London (BA hons fine art).
My works often attempt to explore the illogic of dreams and the unconscious. I prefer surreal fragmented narratives as oppose to traditional cinematic storytelling. Film for me becomes a tool for exploring the logic and the poetics of the image. I often include elements of animation in my work. Animation, with it's ability to make the inanimate come alive, and make the hidden apparent, almost have an alchemistic quality and thus it encompasses everything magic, oscure and un?
That quality attracts me.
I am similarly seduced by everything theatrical: the gestures and melancholy of early silent film, in particular, and all sorts of work that deals with unrealistic aesthetics, masks and dressing up in weird costumes.
I often work in a formal, minimal language, but strangely I feel informed by all the opposites.

LONDON : 3.11 @ THE LIGHT AND SHADOW SALON / THE HORSE HOSPITAL

nomad's museum
video art / experimental film / music / artist's talks

ARTISTS :
ARMANDO SEIJO / painting / (LIVE!)
BIRD RADIO / music / (LIVE!)
CHIARA AMBROSIO / film / (LIVE!)
DAVID KEW / film / (LIVE!)
FILIPPOS TSITSOPOULOS / performance art / (LIVE!)
JAMES HESFORD / music / (LIVE!)
KATRIN OLAFSDOTTIR / film / (LIVE!)
RIKKE BENBORG / film
TAKASHI MAKINO / film

and more tbc soon...



THE LIGHT AND SHADOW SALON
is a place for artists, writers and audience to meet and share ideas about the past, present and future of the moving image in all its forms
thelightandshadowsalon.wordpress.com

THE HORSE HOSPITAL
PROVIDING SPACE FOR UNDERGROUND AND AVANTGARDE MEDIA SINCE 1993
www.thehorsehospital.com

PARIS : 11.11 / 7pm - 1am @ LA PENICHE CINEMA

nomad's museum
by PAPAY GYRO NIGHTS ART FESTIVAL in co-operation with VIDEOFORMES
video art / experimental film / music / artist's talks

PGN nomad's museum @ La Peniche Cinema in Paris is the re-union night of the artists who were taking part in the previous editions of the Festival and the search for the future collaborations - the night of live music, audo visual performances, film screenings and artists talks

Since the first edition of Papay Gyro Nights Art Festival, in 2011, the Festival has been presenting works by many French artists on the remote island in the North Atlantic and in Hong Kong: co-produced a new film Depressive Cop by Bertrand Mandico and Elina Lowensohn, hosted art residencies with land artist Douce Mirabau, video artists Anna-Sophie Emard, Gabriel Soucheyre, film makers Gregory Robin and Sebastien Roceray, musician Annabelle Playe and screened works by Patrick Bokanowski, Cedric Dupire, Olivier de'Sagazan, ML, Gilivanka Kedzior & Barbara Friedman, Gabriel Otero and selections of works by Videoformes and Braquage / Paris

ARTISTS:
(screen)
PGN and VIDEOFORMES programmes
more information soon...

(live music / av performances)
ANNABELLE PLAYE and ANNA-SOPHIE EMARD / av
LIEW NIYOMKARN / electroncs Liew Niyomkarn is an artist who manifests sound as a medium into a form of performance, sculpture and installation. Liew's work is known for its ecstatic and surprise events, often expresses a sensory of flexibility and impermanence of sound and objects. Also, Liew's composition also appears in films and advertising. Liew currently lives in Den Hague, Netherlands
JARKKO RASANEN / av / electronics (FixC): SLOWPASS, 25 minutes Electroacoustic performance based on field recordings made with cell phone, accompanied by live visuals with custom-made software. SLOWPASS examines the possibilities of cellphones as memory technology , that can capture passing by soundscapes in the midst of the urban life. They are being mixed together and manipulated in order to create a narrative sound journey through diaristic notes of artist's surroundings. A.Nastasia (Berlin) uses Räsänen's self-made video mixing software to compose visual elements of the piece in real-time

and more tbc soon...