[Ghost of OT301]
2014 16mm 35mm to HD 16:9 9min
music by Inconsolable Ghost
Online Preview

#4 Lima Independiente Festival International de Cine, Best of Avant-Garde Film Award (Peru)

A multilayered phantom ride which interweaves absences and presences, past and present. Inspired by a live performance of the group Inconsolable Ghost at OT 301 in Amsterdam.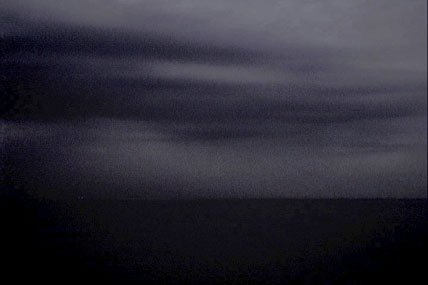 [The Low Storm]
2009 35mm 8mm to Video 4:3 16min
music by Lawrence English



In 2007,Lawrence English (electronic musician and organizer of ROOM40), gave me an offer that it might create a work together.

And after the exchange of our own work of each other, the premiere of [The Low Storm] was held at Brisbane's Institute of Modern Art in November 2008.

Lawrence went to Europe tour with my images, and played live soundtrack in every performance. And he got inspiration from images again and again, and built up the imagination and concept for soundtrack.

After the his Europe tour, he recorded soundtrack again, and we have been fixed as cinema.

An image of a horizontal line taken by the 35 mm film, it was transformed by the particles of electronic noise and film grain, and I tried to create a fictional/artificial landscape
Makino Takashi born in Tokyo in 1978. Makino began making films in 1997. In 2001, after graduating from the Cinema Department of Nihon University College of Art, where he majored in Cinematography, he went to London alone to study under the Quay Brothers. He mainly studied film music and lighting. Makino continued to make films after returning to Japan and has held solo screenings regularly since 2004. He met Jim OfRourke in 2005, which accelerated his film making pace. His film, No is E won the Terayama Shuji Prize at the Image Forum Festival 2007. Makino was prominently featured at the International Film Festival Rotterdam 2008, where Elements of Nothing was nominated for the Tiger Award. Since then, as Japanfs leading experimental film artist, his films have been invited for screenings at more than 30 international film festivals and video art festivals. His installation using 35mm film and HD was exhibited at the Tokyo Metropolitan Museum of Photography. In 2009, still in cosmos won the Grand-Prix at the 25FPS International Experimental Film & Video Festival 2009. His first medium-length film, The World, was premiered at a late show at the Kichijoji Baus Theatre in Tokyo, marking the new dawn of experimental films.
makinotakashi.net