"If you strike the word 'beauty' onto the word 'politics', you create the spark for a revolution." - Philipp Ruch
politicalbeauty.com
THE CENTER FOR POLITICAL BEAUTY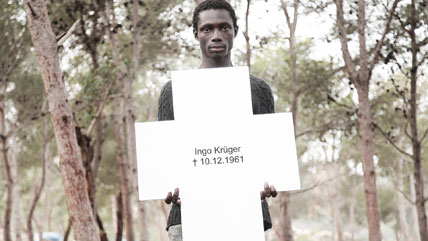 photo: (c) Patryk Witt / Zentrum für Politische Schönheit
THE CENTER FOR POLITICAL BEAUTY


The Center for Political Beauty is an assault team that establishes moral beauty, political poetry and human greatness while aiming to preserve humanitarianism. The groupís basic understanding is that the legacy of the Holocaust is rendered void by political apathy, the rejection of refugees and cowardice. It believes that Germany should not only learn from its History but also take action. For several years now, the Center has engaged in a parallel (more beautiful) German approach to foreign politics that uses humanity as a weapon. From Bosnia-Herzegovina and Aleppo straight to the mountains of Melilla, the groupís interventions demonstrate how art can be a fifth state power.

For the 25th anniversary of the fall of the Berlin Wall, a memorial was removed right from Berlinís government quarters and was brought to the EUís external borders. History refusing to remain silent. This was followed by a storm on the EUís external borders: the First Fall of the European Wall.