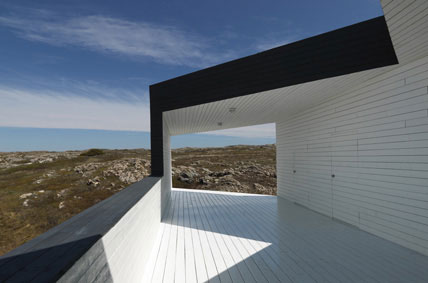 Fogo Island Artist Studios
Various locations on Fogo Island, Newfoundland, Canada
Designed 2008/2009 & Construction 2009/2011
Fogo Island lies outside of Newfoundland, Canada and is home to a gentle, independent people who have lived for centuries between wind and waves in pursuit of fish. Fogo Islanders live in the untamed landscape of the North Atlantic. The people are subtle and unpretentious yet have seen their traditional way of life by threatened by forces largely beyond their control. Fogo Island is an elemental place of subtle and abiding beauty – a place where time is not obliterated by the circulation of everything. Its people are inextricably bound to this place where they belong. They are a culturally rich and resourceful people who live in close connection with each other and with their people who have come before. The Shorefast Foundation works with the people of Fogo Island to find ways to preserve this special place and this special culture. We have chosen to find new paths by leading with the arts. We want to create structures that respect where we've come from and dignify this landscape that is so fragile yet so fearsome. We want structures that touch our imaginations and help maintain a connection between our past and our future.
www.saunders.no