We.Fi
A selection of works by FixC cooperative artists curated by Juha van Ingen


1. "Musta" Seppo Renvall, 2012
2. "In girum imus nocte et consumimur igni" Jarkko Räsänen, 2011
3. "A Life of One's Own" Kari Yli Annala, 2008
4. "Disk of the day" Seppo Renvall, 1993
5. "Timmy Come Home" Juha van Ingen, 2011
6. "Vantaa" Erkka Nissinen, 2008
Seppo Renvall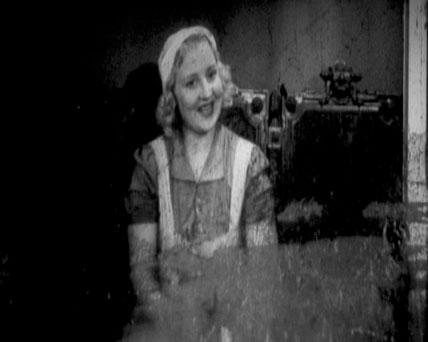 Musta (2012), 4:3, 03:00

A fragment of an old 16 mm film of a woman sitting is re-filmed and hand processed. The resulting film loop acts as an illustration for the song which is performed and composed by Maija Saksman.

//// In Seppo Renvall's works one can sense the spirit of the cinematic liberation movement that in its time inspired filmmakers to establish cooperatives and create a poetics of moving image that defies rules, comes close to life and is rough around the edges. Besides photographs, films and video works, Renvall has also produced happening-type installations and live performances The gruff and twisted beauty of life is reached in Renvall's bohemian rhapsodies through note-keeping of anecdotes from everyday life, rearrangement of material and cinematic manipulations. These skilful manipulations serve to realize mundane addictions, poetic documentations of internal and external worlds, frail moments in technology, and portraits of family, friends and random passers-by, which honour the transient nature of life.

Jarkko Räsänen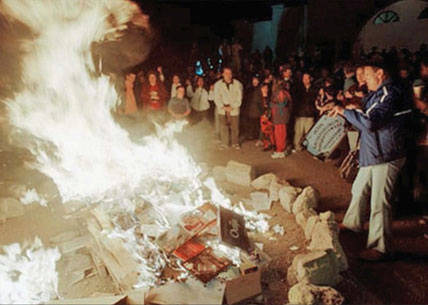 In girum imus nocte et consumimur igni , 2011

The video shows jpeg - the most common digital image format - compression decay of ten jpegs about famous book burnings, that I have found from internet. I created a software that opens and saves the same jpeg image hundreds of times, until the the "skeleton" of jpeg image becomes visible: it contains the minimum amount of information to present an image according to jpeg algorithm. Compression is actually misleading word in case of jpeg, because it destroys so much information from the image as possible without human eye noticing it.
The soundtrack consists of "silence" from vinyl record: the cracks and pops that resemble the sounds of burning are actually dust and dirt on the surface of vinyl record that does not contain any sound information.

Kari Yli Annala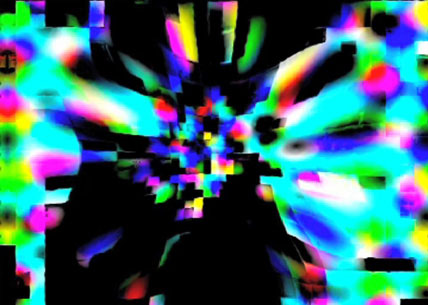 A Life of One's Own, 2008

"After the Wars in Eurasia the cities were re-habited by the massive transportations of populations. The tropical diseases bursted forth from the mangrove forests of Fenskandividian-Baltic New Everglades (former Baltic sea coast).
After MEP (the Megagentrification Plan) collapsed, large evacuations were done in order to empty the cities. The Saviour vessels were looking for the last inhabitants."
(Chi-Yun, Gaup & Solovjov-Hoek, After The Turn: The History of the 22st Century, Oral archives of Giellagas-Kuâlõk/Guoládat, 2997)
Seppo Renvall
Disk of the day, 1993

A man runs around the with a camera connected to a stick.
Juha van Ingen
Timmy Come Home, 2011

Timmy Come Home is a rythmical -reconstuction of the opening scene of Lassie.
Between 1954–1973 the television series, Lassie was broadcast in America, with Lassie initially residing on a farm with a young male master Timy.
Erkka Nissinen
Vantaa, 2008

A musical journey. In the spirit of Wittgenstein, the form of language, sound and repetition expand the limits of logic to create a structure of absurdity.