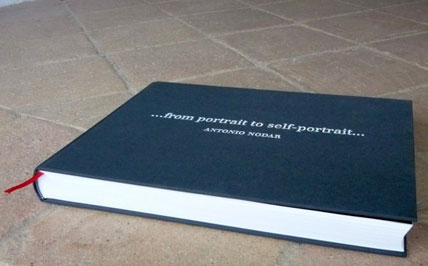 from portrait to self-portrait... Vol 1
Project in collaboration with Elsa Peretti Foundation.

Since 1996 I've been taking B&W portraits of artists, and giving them a duplicated print of their portrait on which to create their self-portrait. Originals are not for sale. The aim of this project is to give it away as a donation to a public museum.
Bound as a hardback , sewn sections, Real Cloth Assuan 5069 cover over 4mm board with white and red foil blocking, rounded spine, head and tail bands and ribbon marker.

The Production of Volume 1, was finished during spring 2011 in Indice S.L.., Barcelona printing workshops.

The inside is printed by Staccato screen at 6 colors plus selective varnish on 170 gr/m2 Magno Satin.

The binding is hand made by Podium Encuadernaciones, S.COOP.C.L.
First print run was 1.500 copies,
1001 copies for selling (numbered and signed)
and 499 Hors Commerce.

Book size 30x40cms, A3 landscape.

Weight over 6 kilograms.

242 artists are represented

Text from the book Open letter to the pilgrim of the mirror by Jose Maria Munoz Rovira aka Humphry

Design by Albert Claret
Barcelona book launch at Fundacion Palo Alto
France book launch at La maisonoire, Blainville sur mer
London book launch at Hundred Years Gallery
Orkney book launch at Papeylistskjul (Papay Arts Centre), Papa Westray
The produced editions will only be available in a limited run of 1'001 per volume and will retail at £1111.00
www.antonionodar.com