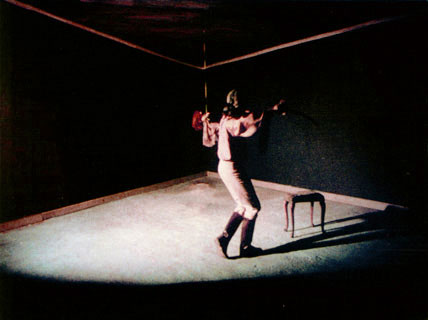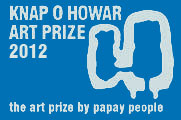 L'ANGE / THE ANGEL
1982 / 16 mm / coul / son / 70' 00
Music: Michèle BOKANOWSKI
THE STORY OF THE FILM

The climbing of an immense staircase made up of the most varied stairs.

Symbolic scenes occur on different levels where (the) characters seem to be prisoners of their deeds and of their own folly.

Attacks, explosions, maniacal and despairing searching, objects which independently move, walls, floors and ceilings which form and disperse ;

The steep staircase leads little by little towards the zones of great light where human beings and nonhuman beings meet.
NOTES ON THE PHOTOGRAPHY IN "THE ANGEL"

All the shooting was transformed by rneans of a rear projection animation stand with different techniques adapted to each sequence.

These transformations concerned the colouring and substance of the picture (texture, granulation, graduation) and the construction (perspective modified within each frame).

In addition to these standard special effects, (that is to say the introduction of models, the inclusion and transfer of objects, the acceleration and reduction of speed, and the inversion of sequences) more specific processes were applied : the use of special optical lenses, the superimposition of still and mobile elements creating different sensations of space, the control, frame by frame, of the rhythms aûd movernents of the characters.

Sorne of the special effects were created during the actual shooting, whereas the sets were built with a view to the transformations they would subsequently undergo.

The construction of the set and the filming (actors, models and stop-motions process) were carried out one a period of two years ; the special effects and editing took three years to complete.
MICHELE BOKANOWSKI'S MUSIC

Less than ever, the usual term "soundtrack" cannot be applied to the original music composed by Michèle BOKANOWSKI for "L'ANGE", the music which alone makes up the sound world of this film without "dialogues » and without "sound effects" in the traditional sense. For this music is never a commentary, it can never be placed in a conventionally delimited part of the film, but is an integral part of its space, its pulsation, its song.

For her work on "L' ANGE », Michèle BOKANOWSKI thought immediately of a string quartet, but a quartet she would recompose. She had solists (Regis PASQUIER, Philippe MULLER, Philippe DROGOZ) record partitions and separate musical elements, each one carefully worked out, and she subsequently recomposed, manipulated and assembled them on tape in her personal studio with her usual perfectionism and her sense of full, dense harmony. In Michèle BOKANOWSKI's music - in her concert works as well as in her film compositions - there has always been a pursuit of chamber music color. She succeeds in creating a form of distillation and sublimation of musical tone, a nucleus of intimacy from which expression diffuses, radiating into a vaster dimension than any orchestra could produce.

Human and cosmic, like a bridge connecting the inside space of the body and the memory to the violent perspectives of the outside space which make up Patrick BOKANOWSKI's world, this music defies all traditional laws for film music and represents one of the most surprising adventures in marrying sound and vision.

Michel CHION
Selected by the Critics' Week at Cannes 1982, Grand Jury Prize and the Prix de la SACEM 10th Festival of Besançon and Experimental Film Award at the 4th Festival of Grenoble in 1982.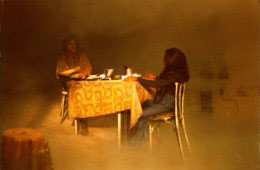 DÉJEUNER DU MATIN
1974 / 16 mm / coul / son / 12' 00
Music: Michèle BOKANOWSKI
Incorporating painterly, Friedrich-like rural landscapes set against expressionistic images of elongated shadows, skeletal structures and highly acute camera angles that distort perpective fields of view, « Déjeuner du matin » subverts conventional notions of family and domestic ritual to create a haunted portrait of isolation and Sisyphean ritual.
Prix au Festival de Grenoble (1974)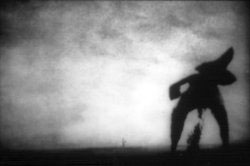 LA FEMME QUI SE POUDRE.
1970-1972 / 16 mm / n&b / son / 18' 00
Music: Michèle BOKANOWSKI
Patrick Bokanowski, the " artist-alchemist of celluloid", employs an extraordinary range of technical inventions – combining live-action with optical experiments, drawing, performance, painting and animation- to conjure magical forays into a parallel universe: moving from dread and terror in the early shorts, via bursts of zany humour, to sublime serenity in the landscape films and joyous kinetic energy in his most recent work
Prix du Festival de Toulon
"Magisterial images seething in the amber of transcendent soundscapes. Drink in these films through eyes and ears"
Brother Quay
Patrick Bokanowski. French filmmaker and artist developed a manner of treating filmic materiel that crosses over traditional boundaries of film genre : short film, experimental cinema and animation. His work lies on the edge between optical and plastic art, in a « gap » of constant reinvention. Patrick BOKANOWSKI challenges the idea that cinema must, essentiallly, reproduce reality, our everyday thoughts and feelings. His films contradict the photographic « objectivity » that is firmly tied to the essence of film production the world over. Bokanowski's experiments attempt to open the art of film up to other possibilities of expression, for example by « warping » his camera lens (he prefers the term « subjective » to « objective » - the French word for « lens »), thus testifying to a purely mental vision, unconcerned with film's conventional representations, thus affecting and metamorphosing reality, and thereby offering to the viewer of his films new adventures in perception.

Pierre Coulibeuf
www.lightcone.org
16MM