22. 01. 2015 / 7.30PM
@ THE LIGHT AND SHADOW SALON.
THE HORSE HOSPITAL.
LONDON
PAPAY GYRO NIGHTS presents
INCOHERENT CINEMA :
BERTRAND MANDICO
KATRIN OLAFSDOTTIR
a selection of films and Incoherence Manifest presented by the authors : Bertrand Mandico, Elina Löwensohn and Katrin Olafsdottir

International / INCOHERENCE manifest written 12th October 2012 by artists and film makers Katrin Olafsdottir and Bertrand Mandico as the declaration of the principles of Incoherent Cinema based on Incoherence of Screenplay, Manufacturing, Sophistication, Effects, Style, Time and Geography, Taste, Economy, Creativity, Acting and Cinematography

The very special event in London is a rare chance to see recent films and to meet the authors. Most of the films included into the programme at The Horse Hospital were never seen on the British Isles before with the exception of the screening at Papay Gyro Nights Art Festival at the small and remote island, with population only 70 people Papa Westray ( locally known as Papay ) in Orkney. The Festival is taking place each February when the North Atlantic sea is rough and brave ones able to reach the island. PAPAY GYRO NIGHTS is an ancient festival of the island, which celebrated on the first full moon of February. Gyro is a mythical child eating giantess also known as Gygr, Gryla, Grylur, Grøleks, or Skeklers in other Nordic countries' folklore

We'd like to see Papay Gyro Nights as Incoherent Festival where works of art shared equally with the landscape, the sea, irrational animals of the island and inarticulate magical beasts of folktale as well as human inhabitants and visitors

Some art works and ideas are arriving to the island as a shipwreck and later becoming part of the place. With Bertrand Mandico and Katrin Olafsdottir's works, from the beginning, we had a feeling they're growing from the rocks and grass, from the forgotten lives and magic of the island. When the stories told from the heart – the speech may stutter, become incoherent connecting unnameable. Incoherence is the sign of being honest in conversation with the elements of the surrounding world – the way to become a human, a beast, again and again and again in the world which is not only transforming and flowing, but also ceaselessly transmogrifying

The definition "short film" is not the right one for Bertrand Mandico and Katrin Ofafsdottir films – they can't be defined by minutes of duration in the same way as poems can't be defined by the number of lines, and dreams by timelines. The present time in the films is the past, present and future at every single moment – like in one single phrase from Bertrand Mandico's film BORO IN THE BOX:

"My name is Walerian Borowczyk...
I'm dead polish filmmaker.
All my life I was locked in a box with a hole in it.."

..where every single present moment of the film is here and now and in the same time is going beyond of the time of birth and the time of death; where the camera is not an invention defined by technological progress, but the organic extension of the film maker



Since 2012 Papay Gyro Nights Art Festival presented BORO IN THE BOX, LIVING STILL LIFE, LIF OG DAUDI HENRY DARGER, IL DIT QUI'IL EST MORT…, MIE, LE CAVALIER BLEU, Souvenirs d'un montreur de seins, Féminisme, rafale et pellicule and Prehistoric Cabaret by Bertrand Mandico and ELASTICITA, FEAR and IN DEATH I SOFTLY SING by Katrin Olafsdottir on the island Papa Westray and in Hong Kong. 3-10 February 2015 we're having 5th edition of Papay Gyro Nights in Papa Westray and Bertrand Mandico, Elina Löwensohn andSebastien Ronceray will be travelling to the island to produce a new film which will be shot in 16mm, developed and screened at the Festival



Ivanov + Chan / PAPAY GYRO NIGHTS /
BERTRAND MANDICO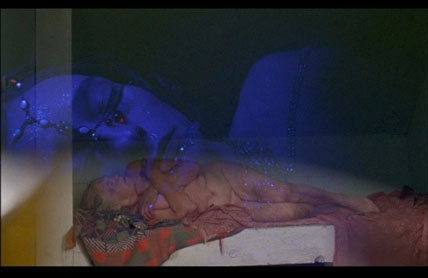 Salammbô
2013 / _min

Old Salammbô lives alone on an island haunted by her memories and taunted by the ghost of her youth.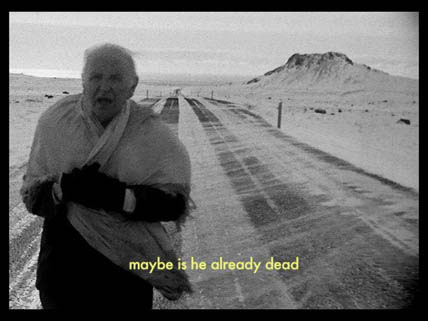 Lif Og Daudi Henry Darger. (Live and Death of Henry Darger)
2010 / 6min
France, Iceland,
language: Icelandic - s/t English/Italian
Arnardottir Arpa, Gudmundsson Karl, Lemarquies Tomas

Henry Darger travels the icy roads of Iceland to learn how much time he has left to live. "Two hours", he is told by a blue-skinned clairvoyant.

67th Venice International Film Festival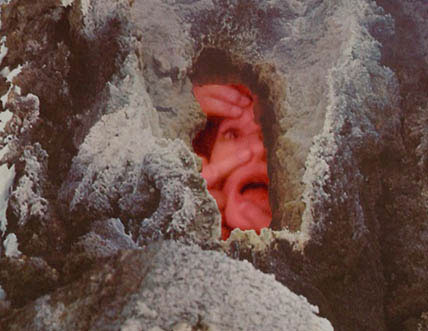 Prehistoric Cabaret
Super 16mm couleur / 11mn / 2014

A Cabaret show in Iceland. In front of a tired audience, the lead actress proposes a trip to the center of her organs, with the help of a colonoscopy camera. This organic trip causes impulsive reactions among the public…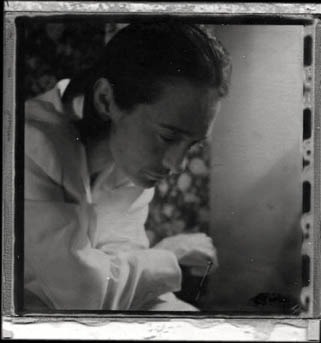 Souvenirs d'un montreur de seins (Memories of a boobs flasher)
Super 8mm -noir et blanc / 9min /

A man endowed with breasts tells us of his memories and his relationship with his own breasts and with those who watch him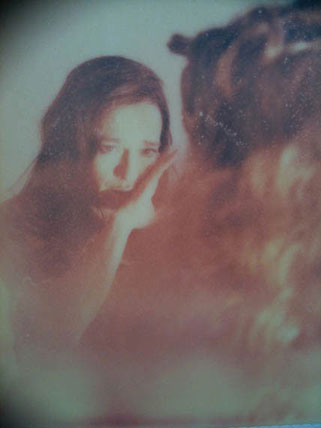 Féminisme, rafale et politique. (Feminism, politics and film)
Super 8mm -couleur / 10min /

A woman confronts a longhaired individual, who shows us his/her back.
Guided by a voice over, the woman experiences contradictory emotions, the earth shakes.
KATRIN OLAFSDOTTIR
In death I softly sing (Uterus Malade)
Super 16mm / 12mn / 2014

The new inconherent film has been specially made for Papay Gyro Nights 2014

Cast: Æsa Hermannsdóttir, Teodor Úlfur Muñoz Katrínarson, Ivan Babinchak Renqvist
Sound: Enrico Fiocco

My uterus is elaborating, in the laboratory it is producing seeds for a sick squirrel to nibble. It's elaborating, my uterus. .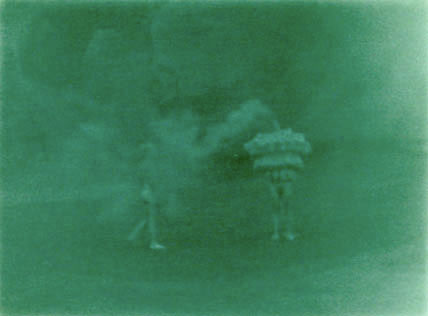 Salut Phallus
Super 16mm /__' __" / 2015

in production

Hails to a drooling caterpillar.
J'aime les morts
Super 16mm /__' __" / 2015

in production
about artists:
Bertrand Mandico born in Toulouse, 1971. He got his degree in directing from the Gobelin animation school in Paris. A draftsman and photographer as well as a filmmaker, it was obvious from an early age that he had a very personal imaginary, full of macabre black humor. His short films have been successfully screened in Annecy and Cannes.


Katrín Ólafsdóttir's background is dance and choreography and she started making Super 8 films as a teenager. She has directed and produced several short films and documentaries and is currently in post production of her first feature film The Wind Blew On, made religiously with a home made formula of Mutual Aid. Along with Bertrand Mandico she is founder of the film collective International/Incohérence.
Katrin also does photographic work, video performances and installations. She and collaborator Steinunn Gunnlaugsdóttir have been in the habit of taking over abandoned spaces and perform symbolic attacks. Katrin has exhibited in museums and galleries and done installations in abandoned man made structures


Elina Löwensohn is a cosmopolitan actress born in Romania, American and living in France. Her acting career includes films, videos, photos, performances and theater plays with a pronounced desire for metamorphosis.
Starting her career in the early 90s, in the independent New York theatrical and cinema scene, she is remarked in the most famous films of Hal Hartley « Simple Men »and « Amateur », in « Basquiat » by Julian Schnabel and « Nadja » by Michael Almereyda. Her taste for the art of performance as well as her interest in the visual arts, leads her to collaborations with artists such as Marcelline Delbecq, Tom de Pekin, Valerie Mrejen, as well as the filmmaker Bertrand Mandico, for whom she played in many of his films: «Boro in the Box », « Living Still Life », « Our Lady of the Hormones »…
Together with Mandico, she imagines a series of films and polymorphous creations, exploring the mise en abyme of the director-actress relationship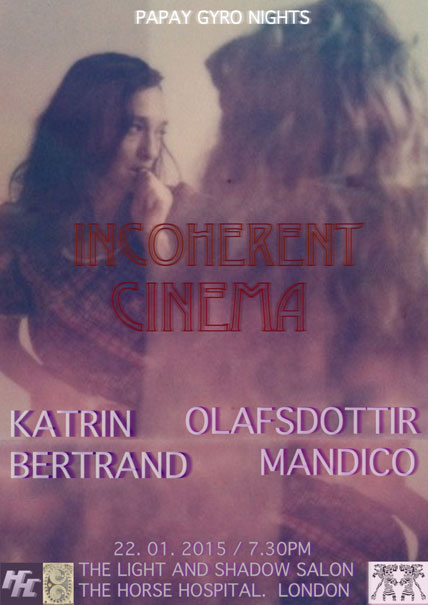 PAPAY GYRO NIGHTS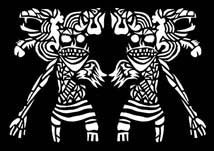 THE LIGHT AND SHADOW SALON