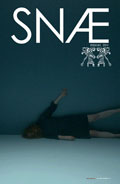 SNÆ #3.2014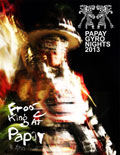 book launch: FROG KING KWOK AND FROG QUEEN CHO IN PAPAY

PAPAY GYRO NIGHTS @ AIVA 2014
28 - 31. 05. 2014
AIVA 2014 Finspång.

AIVA 2014, International Video Art Festival will take place in Finspång, Sweden May 28-31 and the main purpose of the festival is the free presentation, promotion and development of international video art and to create a new, alternative, peripheral meeting point for emerging and established video and media artists from all over the world. We hope to bring Sweden clearer on the map, both nationally and internationally, as a vivid scene of video art.

It is supposed to be a recurring event in addition to art offers cultural meetings that attract conversation about video art and its position in contemporary art. An open call for works was published online on December 20th, 2013 and up until the deadline March 1st, 3040 people from 94 countries downloaded the submission file and 1006 completed submissions landed in the mailbox. The selection process for the open call is made by curator Anders Weberg.In addition to the open call screenings, the festival invites international guest curators from other video art festivals to curate programs of video art. They will also be present in Finspång during the festival and present their selection in person.

Invited curators for AIVA 2014 is Ivanov+Chan from the Papay Gyro Nights festival, Scotland; Margarida Paiva from Oslo screen festival, Norway; Gabriel Soucheyre from Videoformes Festival in Clermont Ferrand and all the way from Damaskus, Syria; Abir Boukhari - director, curator and co-founder of AllArtNow organization in Syria, founded in 2005.The festival will also have an exchange program with the International Video Art Festival "Now&After" from Moscow, Russia. Program curated by festival founder, director and curator Marina Fomenko. All programs will be exhibited as projections in huge containers arranged as a special outdoor screening area placed in the main area of Finspång.All activities is free and open to the public.

aivafestival.com


PROGRAMME:
selection of works from PAPAY GYRO NIGHTS 2014 Art Festival curated by Ivanov+Chan
theme: 1000 YEARS OF WAR
artists: Rammatik / Cédric Dupire / Rikke Benborg / Kari Yli Annala / Ryo Ikeshiro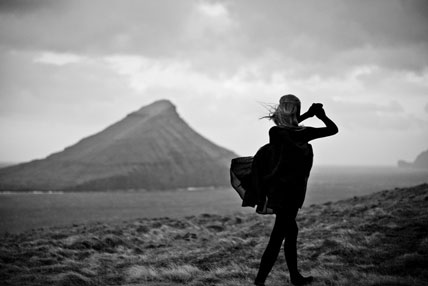 Rammatik / AMOHR/ Faroe Islands / 2011 / 2'46″
Still photographer: Katrin Svabo Bech
Composer: Jens L. Thomsen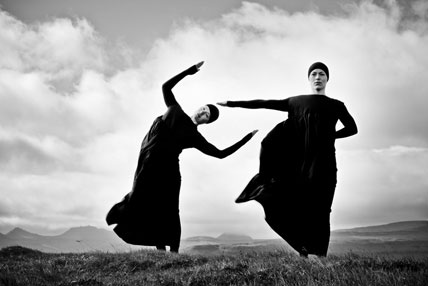 Rammatik / KARMOK / Faroe Islands / 2012 / 4'43″
Still photographer: Katrin Svabo Bech
Composer: Thomas Garside
Rammatik / MARRAN / Faroe Islands / 2011 / 6'36″
Still photographer: Katrin Svabo Bech
Composer: Thomas Garside

Amohr, Karmok and Marran are three experimental short films, from a grater series CYCLES, that embrace and discover movement through camera. The films are shot on Super8 in the extreme and wild landscapes of the remote Faroe Islands.
Deprived from dialogues and narratives, the repetitive patterns of movements, costumes, music, landscapes and other components create an intriguing atmosphere that takes the viewer to a surrealistic yet hauntingly beautiful universe.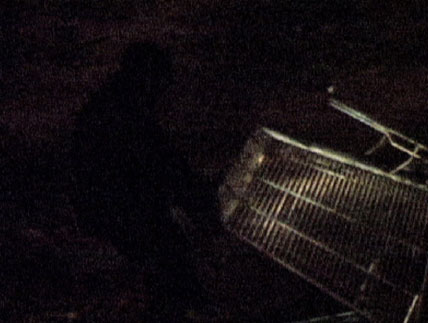 Cedric Dupire / SILENT BLOCK / 2013 / 15'12″
Silent Block is the primitive meeting and the fight between a man made of flesh and a shopping cart made of metal.
The time is suspended, it is the meditation of the fight.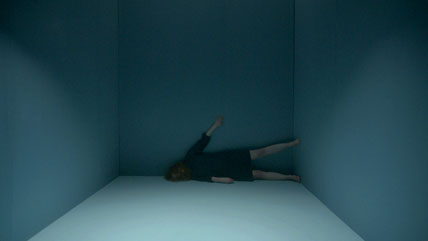 Rikke Benborg / OH SWEET DARKNESS / 2013 / 5'58″
All at once aesthetic and existential touches Rikke Benborg's film at some fundamental emotions. The film takes us into an unreal, blue-green room, a dream universe in which the boundary between sleep and waking are blurred – and where you can not escape.
We follow a young woman watching her fall asleep and review of classic dream scenarios as to lose its teeth and fall into the water. The film is accompanied by a discreet but insistent music that supports the dreamlike, surreal atmosphere.
Rikke Benborgs interest in early experimental film is not forsaken, yet Oh, Sweet Darkness a very contemporary bid on an abstract narrative that is carried through visual means.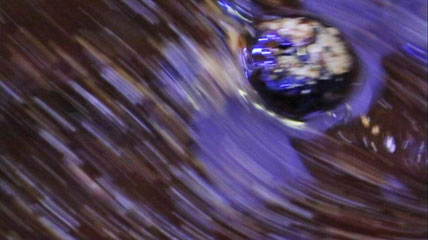 Kari Yli Annala / ASTEROID / 2010 / 2'03″
A small solar system body on its way to start or to end life on a world.

thanks to NOVA (Northern Video Art Network)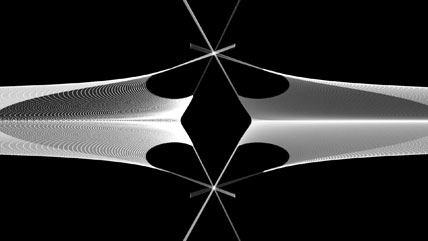 Ryo Ikeshiro / COMPOSITION: WHITE SQUARE, WHITE CIRCLE / 2013 / 2'59″
Composition: White Square, White Circleis an audiovisualisation, where the same data and process generate both the sound and the moving image without either one following the other as seen in most VJ practice and visualisations. Movements and patterns that are seen can also be heard and vice versa, with visual shape, screen location and speed corresponding to audio timbre, panning and pitch.

Simple abstract designs are used, based on folding into a square and stretching into a circle, much like kneading dough. These shapes are moved to and fro, and gently transformed into complex structures and then back again. Despite being generated by cold, geometric forms, the wave-like motion gives the work an organic quality, suggesting the cyclical character of nature.

The title is a homage to the Russian Suprematist artist Kazimir Malevich. It is almost a hundred years since Black Square (1915), Black Circle (1915), Suprematist Composition (1916) – the most expensive painting in the history of Russian art – and White on White (1918). His style is interpreted through the use of modern-day techniques of data visualisation and sonification. The work was originally made for Sedition, a cloud-based digital art platform.