Filippos Tsitsopoulos (Spain)
THE MADRIGAL OF THE EXPLOSION OF THE WISE WHALE
4 channel video installation / 2010
The madrigal of the explosion of the wise whale videos is a video monologue that is presented with four "actors performing projectors" and we can describe it as Video theatre installation.
The figure with the ears and the crabs start the function, and so begins as your indicated text.
The actor's is the artist himself. Is quite innovative because he film himself performing and record monologues that becomes dialogues due to the two screens projections, creating Video theatre.
The Madrigal of the Explosion of the Wise Whale holds the idea that art can be created from a fictional reality and try to build this reality afterwards in a second level of understanding, creates the "lamentations of a daily poetic life", modern theatrical lamentations, dealing with paradox, Madrigal is not a Modern form of song but it can be modern and as an art fort can be translated to theatre, to "Home Domestic Theatre of the Daily Life", when quotidian life is transformed to Tragedy.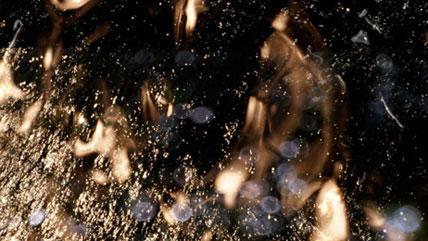 Makino Takashi (Japan)
STILL IN COSMOS
18min / 2009 / Music:Jim O'Rourke
This film visually demonstrates the fact that human has ability to change Chaos to Cosmos.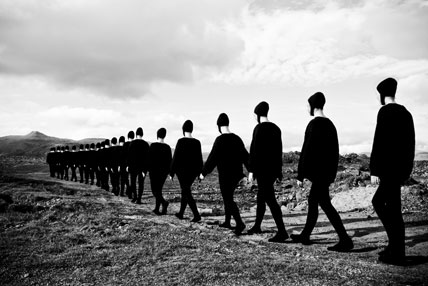 Marianna Mørkøre & Rannvá Káradóttir (Faeroe)
MAGMA
5.19min / super8 / 2010 / Music: Jens L. Thomesn
Magma is the first film in a greater series of experimental short films that embrace and discover movement through camera.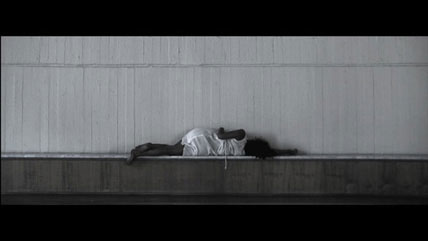 Valentina Ferrandes (Italy)
THE OYSTER EFFECT
13min / 2010
In 1959, the anthropologist Ernesto De Martino, accompanied by a team of assistants, travels to Salento, a rural area of South Italy, to document the performative phenomenon of Tarantism. Using as a starting point parts of archive footage shot by De Martino's team during his first research in the area, "The Oyster Effect" develops into a collage of historical references as narrating voices over a visual journey. In the film, the portrayal of women and hysteria is shown as a series of parallels between built environments, architectural spaces, landscape and their narration.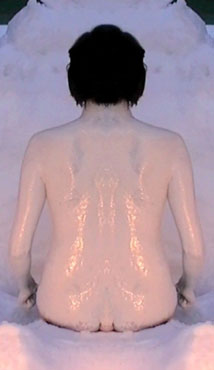 Aunstrup & Hafslund (England - Denmark)
FIG. 1
2min - video installation / 2011
Using the medium of time, paint, sound and performance Aunstrup and Hafslund have constructed a visceral piece that investigates the figurative and conceptual relationship between the performing artist, the audience, the limits of the body, and the possibilities of the mind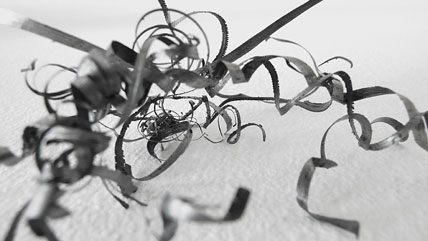 Flo Kaufmann + Zimoun (Switzerland)
SWARF, MAGNETIC FIELDS, MICROPHONES, SOUND SYSTEM
1 min - video installation / 2010
Using simple and functional components, Zimoun builds architecturallyminded platforms of sound