30.04 - 2.05. 2015
PAPAY GYRO NIGHTS @ SonADA 2015 IN ABERDEEN. SCOTLAND
presents:

BABABADALGHARAGHTAKAMMINARRONNKONNBR-
ONNTONNERRONNTUONNTHUNNTROVARRHOUNA-
WNSKAWNTOOHOOHOORDENENTHURNUK*

the programme of the music for your eyes – selection of video works by Genetic Moo, Arnont Nongyao, Rikke Benborg, Bjarni Gunnarsson and Cédric Dupire, Silje Linge Haaland, Ryo Ikeshiro

*The word invented by James Joyce appears on the first page of Finnegan's Wake to represent the sound of the thunderclap that accompanied the fall of Adam and Eve. It's at least partly comprised of different words for thunder in several world languages, including French (tonnerre), Italian (tuono), Ancient Greek (bronte) and Japanese (kaminari).



SonADA is a three-Day Long Experimental Electronic Music Festival in North East Scotland -- this years's theme: MESS

2015 Artists lineup:

Aberdeen and Scottish Artists:
- Imogene Newland - Suk-Jun Kim - Luca Nasciuti - Richard Craig (from Glasgow) - Paul McFadyen (from Dundee) - Colin Fantana Austin and the Binary-School - Kristin Borgehed (Aberdeen/Sweden) - Nathan Bissette - David Officer - Shaun Stables - Ross Whyte (from Glasgow) - Francesco Sani

UK and International Artists:
- Ji Youn Kang (Amsterdam) - Mei-yi Lee (Amsterdam) - Sam Andreae (Sheffield - The Noise Upstairs) - Rodrigo Constanzo (Sheffield - The Noise Upstairs) - Richard Knight (Sheffield - The Noise Upstairs) - Anton Hunter (Sheffield - The Noise Upstairs) -

Artists presented by Papay Gyro Nights:
Genetic Moo, Arnont Nongyao, Rikke Benborg, Bjarni Gunnarsson and CÚdric Dupire, Silje Linge Haaland, Ryo Ikeshiro

Supported by / In Partnership with:
- SCAN (SCOTTISH CONTEMPORARY ARTISTS NETWORK) - Seventeen - Serg (Sound Emporium Research Group: serg-aberdeen.net) - University of Aberdeen Music Department - Citymoves Dance Agency - Papay Gyro Nights

Brought to you by:
sonADA (Sonic Arts Days in Aberdeen) - Suk-Jun Kim / Francesco Sani / Caroline Gausden / Lisa Collinson / Naoko Mabon

www.sonada.org
a selection of works by Papay Gyro Nights artists: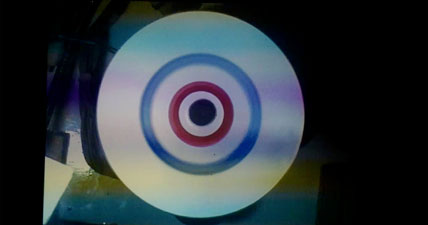 Arnont Nongyao : DRINK SKY ON RABBIT'S FIELD (LOST CONTROL)
6.55 min / 2014

This film about sound and film experimental at artist's studio he was playing weird things that related a lot of circle form "All things can always links to rational and un-rational "Thailand, May22, 2014"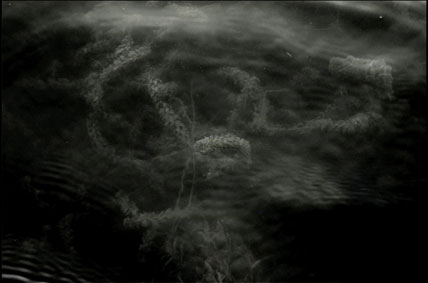 Bjarni Gunnarsson and Cédric Dupire : GREY SEED
8.12min / 2013

Grey Seeds is an imprint from nature.
Its material are sounds and forms on a microscale
From their combination arises an abstraction.
Auditory and visual.
Organic and digital.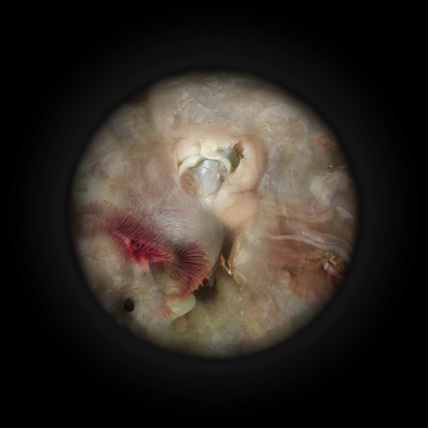 Genetic Moo : MOTHER
ever changing video (non interactive variation), 2009

Mother presents a swirling mass of ever-changing entrails. It consists of closeups of our own body parts and also animal, sealife and plant material. During development we imagined that it could contain, and in some way give birth to all our previous creatures and titled it accordingly. Mother is our most contemplative work to date, people have watched it for 30 minutes, trying to make sense of its primordial being. Some people have even noted a malevolent presence as it churns away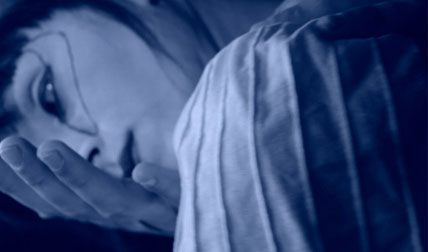 Rikke Benborg : SLEEPWALKERS
4min / 2014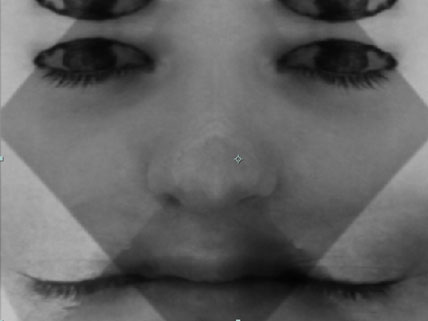 Rikke Benborg : BEAST, EYES, DOLL'S DISGUISE
installation loop / 2014

Rikke Benborg: My works often attempt to explore the illogic of dreams and the unconscious. I prefer surreal fragmented narratives as oppose to traditional cinematic storytelling. Film for me becomes a tool for exploring the logic and the poetics of the image. I often include elements of animation in my work. Animation, with it's ability to make the inanimate come alive, and make the hidden apparent, almost have an alchemistic quality and thus it encompasses everything magic, oscure and un?
That quality attracts me.
I am similarly seduced by everything theatrical: the gestures and melancholy of early silent film, in particular, and all sorts of work that deals with unrealistic aesthetics, masks and dressing up in weird costumes.
I often work in a formal, minimal language, but strangely I feel informed by all the opposites..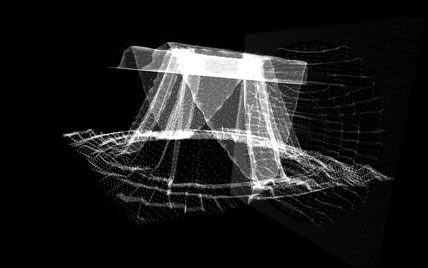 Ryo Ikeshiro : CONSTRUCTION IN KNEADING
audiovisualisation / 12min / 2013

Construction in Kneading is a live audiovisualisation of a Mandelbox fractal, one of several recent multi-dimensional fractals inspired by the famous Mandelbrot set. The recursion formula upon which the escape-time fractal is based is similar to that of the so-called Baker Map and resembles the actions of kneading dough in bread making. Through this relatively simple process carried out in three dimensions and controlled through the real-time manipulation of the variables, complex patterns arise from which all the audio and the visuals are generated. It is implemented in the programming environment Max/MSP/Jitter.

The work consists of three parts. A cube of data calculated from the fractal is audiovisualised using an increasing number of dimensions in each part. In Part 1, a line or one dimension of data is used. In Part 2, a slice or two dimensions of data are used. In Part 3, a cube or three dimensions of data are visible as points.

The same process is used to produce both the sounds and the moving images and so what you see is what you hear or vice versa, without the one triggering the other. It is like an instrument or a machine that is unpredictable and chaotic. In performance, the audiovisuals are generated in real-time through improvised interactions with the system.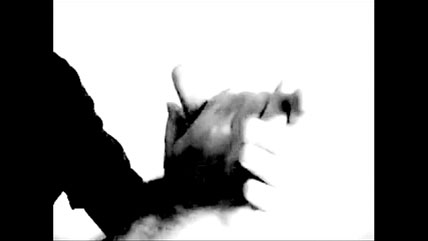 Silje Linge Haaland : ON THE TOP OF THE MOUNTAIN THE SNOW IS THE RAIN
7min / 2013

Silje Linge Haaland works with sculptural experiments together with planned choreographed events.
She examines different states of mind and body through movements. Movements have consequences. Sound is one of the consequences. Human language and words evolves from the fact that we sound. At Papay Gyro Nights, Linge Haaland is showing a video work where sound is a memory/retention looking for its ancestors.