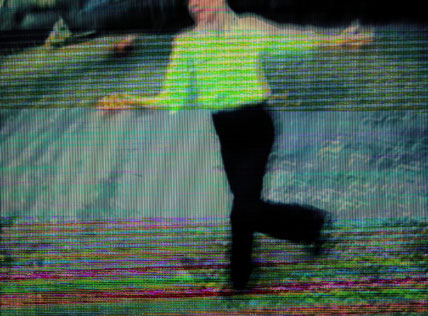 Thrashing in the Static
19.5 min / 2014
How far is too far? How can we look over the edge, feel our way beyond the horizon? Time travel is probably impossible. We navigate the space-time continuum moving forwards. Backwards would entail warp speed propulsion, beyond the speed of light. But not all encounters are rational. Our perceptual experience of living in time is strange… allowing us to remember, to imagine… to be in our haunted flesh and bones. We look by looking backwards, as time travels through us, propelling us into the future. As physical and metaphysical phenomenon, seeing is strange, uncanny, magical.

Alf, my half-brother, a young sailor, was 'lost at sea' and remains stranded in 1942. He died on an island in the South China Sea, Tjebia. The island is surrounded by reefs, treacherous waters and the telegraph station there was broken, unable to send messages. Can the technical operations of a 'sorcerer's cinema' and the uncanny nature of painting and erasure derange our senses and create magical, relations to space-time, allowing us to traverse time-zones and cross the bounds of one temporally imprisoned human life?

This video builds on earlier works such as Que Sera and Alive, Alive-O which distort film temporality using long exposures and high speed filming in 'song-films' where a recognisable structure is manipulated to explore perceptions of time passing and affect. Whereas earlier pieces used 'remembered songs', voices from childhood, in this case, the soundtrack song is a long ballad composed by the artist. Responding to telegraphic communication, and disorienteering, Thrashing in the Static (2014) explores psychic time travel, crossing from the Thames foreshore in 21st century London to 1942 and a tiny island in the South China Sea, long away and far ago..
Anne Robinson's practice is concerned with the perception and politics of time passing, working experimentally with duration, frame, exposure, paint, sound and movement. She recently curated the Over Time project, funded by Arts Council England and supported by Royal Museums Greenwich, featuring pieces by eleven contemporary artists working on the Thames foreshore. Shows in 2014 include: Lumen at Shuffle, Vital Excess, London, Ghost On the Wire at Bermondsey Project Space and Seeafar for Deptford X 2014 and Folkestone Triennial Fringe. Talks included psi20 in Shanghai and GHost 13 at CSM. Curatorial projects include: Time, Flesh and Nerve, One More Time and Supernormal festival. Previous works such as the video installations Hold and Alive Alive-O (2012) have combined an engagement with temporality with generational memory and a seafaring past. In 2013, she made the song-film Inside Out Blues as part of a Counterproductions residency during Capital of Culture year in Marseilles. This work which draws on a text by Artaud and explores an embodied relationship to coastal edges was subsequently screened at CGP, London. The experimental song-film Que Sera which uses long exposures and high speed filming was also shown at Stamford University. She works with film as an artist educator, currently senior lecturer at London Metropolitan University and completed a practice-led PhD, concerned with temporality entitled The Elusive Digital Frame and the Elasticity of Time in Painting in 2012.
annerobinsonartwork.org