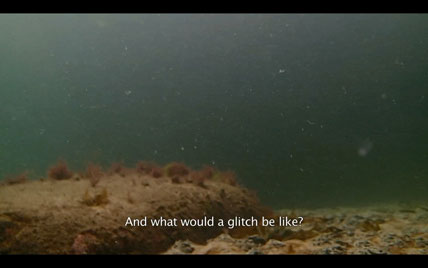 NOUMENON
15.31min / 2014
An RSA Residencies for Scotland funded project 2013, An Talla Solias, Ullapool.
Premier screening at An Talla Solias, July 2014

Noumenon, in the philosophy of Immanuel Kant, refers to the thing itself (das Ding an sich); a world unmediated by perception and therefore unknowable to man who is bound by his perceptions and knowledge of phenomena. For his RSA Residency in Scotland, Stirling began by experimenting with a series of underwater scenarios, filming off Gairloch, Tanera Mor and the Summer Isles in the North of Scotland. The artist built a set of specially designed camera caddies and dolly rigs to capture specific shots and explore the sea, remotely finding new visual means en route to convey the essence of the work.
Stirling repurposes subtitles, dialogue and soundtrack elements from the 1973 science fiction film World on a Wire (Welt am Draht) d. Rainer Werner Fassbinder 1973, with interventions from the artist on an obsolete circuit bent Casio keyboard. Based on the 1964 novel Simulacron-3 by Daniel F. Galouye, both film and novel were early investigations of themes surrounding what would become known as virtual reality. The sea becomes both an optical medium and a physical restriction, allowing the viewer a potential glimpse of the noumenal world underwater. Film, sculptural objects, sealife and appropriated elements from a 1973 German science fiction film are combined to present a psychoaquageographical journey around the intertidal coastline of the West of Scotland.
Calum Stirling's wide-ranging practice encompasses sculpture, sound, moving image and architectural intervention often for one off commissions or responses to non-gallery locations. Recent works have focused on exploring illusion, perception and chance occurrence in relation to both static and mobile sculptural form and space. This practice combines analogue, digital and traditional sculptural media and techniques in installations devised for specific locations, such as Rostra Plaza his large-scale expanded cinema installation devised for the Mitchell Library at Glasgow International Festival of Visual Art 2008 and the project Landstylus devised for Makrolab to translate the topography of the Scottish Highlands into sound. He is currently working on a noir comedy filmed in a nuclear bunker and east coast fishing village.


Calum Stirling (b. Edinburgh Scotland) graduated from Duncan of Jordanstone College of Art and Design Dundee in 1987 gaining a BA Hons in Sculpture. Stirling has exhibited widely in the UK and abroad with shows in countries as diverse as Germany, Canada, Norway and Australia and has carried out numerous residencies. Recent solo exhibitions include Hypobaric Empyr, Spring Fling Commission, Craigieburn Gardens (2010), Rostra Plaza, Glasgow International, Mitchell Library (2008).
Selected groups shows and projects include Reclaimed, Wasps The Briggait for Glasgow International 2014, Collective JukeBox Archive (1996-2004), The Contemporary Art Center Villa Arson, Nice (2012), Calum Stirling y Bobby Niven – Time Will Tell – talCual, Mexico City (2012), Against Anti-Intellectualism a group exhibition at +44 141 Gallery Glasgow (2011), The Dwelling group show Australian Centre for Contemporary Art (ACCA) Melbourne (2010) and Walls of Light, CCA Commonwealth Games film Commission Mediations Biennale, Poznan Poland (2010). Stirling has been involved in several large-scale public art commissions including Sculpture Park commissioned by NHSGGC as part of the artwork programme for the New Victoria Hospital on the Southside of Glasgow (2009), Tilt-Shift a locws International Commission, National Waterfront Museum Swansea and a public seating commission in Space Makers Park Bristol (2004). He is a previous board member of Glasgow Sculpture Studios and Market Gallery.
www.calumstirling.com